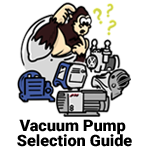 Chemtech Scientific Vacuum Engineers, Chemists and Vacuum Pump Mechanics consider the following factors in selecting the perfect performing and lowest maintenance Schlenk Line/High Vacuum Manifold  vacuum pumps:
Partial pressure of solvent

Latent heat of vaporization

Solvent expansion ratio

Chemical compatibility

Volume of drying/reaction flask(s)

Temperature of cold trap

Ultimate pressure of vacuum pump

Pumping speed of vacuum pump

Chemical compatibility of solvent and wetted parts of system and pump
If you have not considered the above factors, please contact us to review your process and select the best vacuum pump for your application. If you have taken the above factors into consideration, get started by selecting the boiling point range of the highest boiling point solvent you will need to evaporate. If you would like assistance, we will gladly assist you.
In selecting Vacuum Pumps for a Schlenk Line/High Vacuum Manifold, we assume at least occasional very high boiling solvent drying needs. If you will only work with high boiling to medium boiling solvents, please see rotary evaporator vacuum pump selection of this resource.
Get started by selecting the Flask size of your drying or reaction vessel.