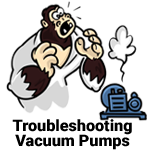 1- Turn off the power and check the fuse and electrical connections. Compare the pump motor rating, printed on a label on the side of the motor and on the serial number tag, to the power source, to be sure they agree in voltage, phase, and frequency.
2- System is under vacuum and vacuum from inlet or exhaust (if exhausting into house vacuum) is pulling on diaphragms stronger than motor power can move. Most diaphragm membrane pumps have small continuous run motors that cannot move diaphragms under vacuum. Bleed system to atmosphere and restart. Pump may hum or may not be audible as motor is energized. When pump motor cannot expel energy by moving diaphragms, energy builds up enough heat to trigger motor's thermal overload device and power to motor is cut off.
3- Diaphragm is ruptured. Motor cannot moved diaphragms when at least one diaphragm is ruptured and lodged against pump head. Replace diaphragms. Contact Us for correct parts or service.
4- Exhaust is blocked or clogged - The pump will not be able to turn if exhaust gasses cannot leave the pump freely. Restrictions in exhaust, partial or full will prevent the pump from turning intermittently or completely. Try running with exhaust filter or exhaust line disconnected. Pump may not start if exhausted into another vacuum system, such as a house vacuum system.
5- While a rare occurrence, motor bearings can be worn and seized motor. Contact Us for correct parts or service.