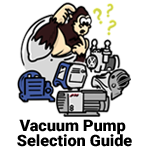 Chemtech Scientific Vacuum Engineers, Chemists and Vacuum Pump Mechanics consider the following factors in selecting the perfect performing and lowest maintenance Glove box Antechamber vacuum pumps: 
Parts per million Oxygen (O2)

Parts per million moisture (H2O)

Purification protocol

Backfill gas

Number of backfill cycles

Volume of antechamber

Ultimate pressure of vacuum pump

Pumping speed of vacuum pump
Either of the three pumps below will provide the correct vacuum and flow/pumping speed to perform your process seamlessly and provide excellent system performance to the process operators. However Direct Driven oil sealed vacuum pumps will operate hotter, exhaust more oil into the lab (or exhaust line),and be the higher maintenance of the three selections. The Belt driven pump is the most durable, forgiving and lower maintenance of the oil sealed options. The Dry Scroll pump will be the lowest maintenance, cleanest pump and will not expose the antechamber to oil migration, as will the oil sealed pumps. Dry Scroll pumps are the newest technology, but the highest cost option.